cover
Diberitakan sebelumnya bahwa Seulgi (Red Velvet) akan ikut bergabung untuk acara variety show terbaru dari JTBC yang berjudul The Girls Who Eats Well (잘 먹는 소녀들). Dikatakan bahwa acara The Girls Who Eats Well (잘 먹는 소녀들) adalah acara makan yang mana menampilkan beberapa member girl group yang dikenal suka makan dan akan berlomba satu sama lain pada acara tersebut.
Source Picture from OSEN
Tzuyu (TWICE) dan Seulgi (Red Velvet) menjadi member pertama yang dikomfirmasi akan tampil pada acara The Girls Who Eats Well (잘 먹는 소녀들). Berturut-turut kemudian diberitakan beberapa member dari girl group lain seperti Jun Hyosung (SECRET) & Kyungri (Nine Muses). Kemudian diberitakan bahwa Namjoo (APink) & Jiho (Oh My Girl) juga bergabung dalam acara tersebut. Diberitakan juga bahwa member lainnya yang ikut bergabung dalam acara ini dan menjadi member terakhir adalah Mina (I.O.I) dan Kim Dahyun (TWICE). Maka akan ada delapan member girl group yang akan "bersaing" dalam acara tersebut.
Acara ini dikatakan nantinya akan dipandu oleh tiga MC, yaitu: Kim Sook, Jo Se Ho, and Yang Se Hyung. Acara ini akan tampil perdana secara LIVE pada 15 June 2016 melalui V Application. Maka jangan sampai ketinggalan untuk melihat tampilan perdana acara terbaru JTBC The Girls Who Eats Well (잘 먹는 소녀들) pada V Live Application. Namun acara ini akan tampil secara resmi pada awal bulan July 2016 pada channel JTBC.
Tidak berhenti sampai disitu, teman-teman juga dapat ikut serta memberikan dukungan dengan memberikan voting kepada Seulgi (Red Velvet) dimana voting akan dibuka dalam janga waktu tertentu dan setiap sesi kemungkinan besar Seulgi akan berhadapan dengan member anggota girl group yang lain. Maka dari itu jika teman-teman mempunyai Naver ID, silahkan memberi dukungan kepada Seulgi untuk acara variety show terbarunya ini. Novi akan mencoba mengupdate terus acara ini karena ada beberapa member favorit Novi akan ikut bergabung dalam acara tersebut. Have a nice day ^^ gbu~
TEASER
Source Original Video from JTBC Entertainment
***
EPISODE
[160629] JTBC The Girls Who Eats Well (잘 먹는 소녀들) EP01
by JTBC  || Facebook ||
by 80deepen  || Dailymotion (part 1) || Dailymotion (part 2: Seulgi) ||
via tosarang2.net || magnet:?xt=urn:btih:4E616F209389927E9A1BA3755CADA7068B838A77 (1,43 Gb) – NEXT
~*~
[160706] JTBC The Girls Who Eats Well (잘 먹는 소녀들) EP02
by 117 & 118  || Dailymotion (part 1) || Dailymotion (part 2) ||
via tosarang2.net  || magnet:?xt=urn:btih:7B0A5934ADB7ADDA11E62BCCB019F757F0221D5C (1,29 Gb) – NEXT
***
OFFICIAL PHOTO
Source Original Picture from JTBC
***
VOTING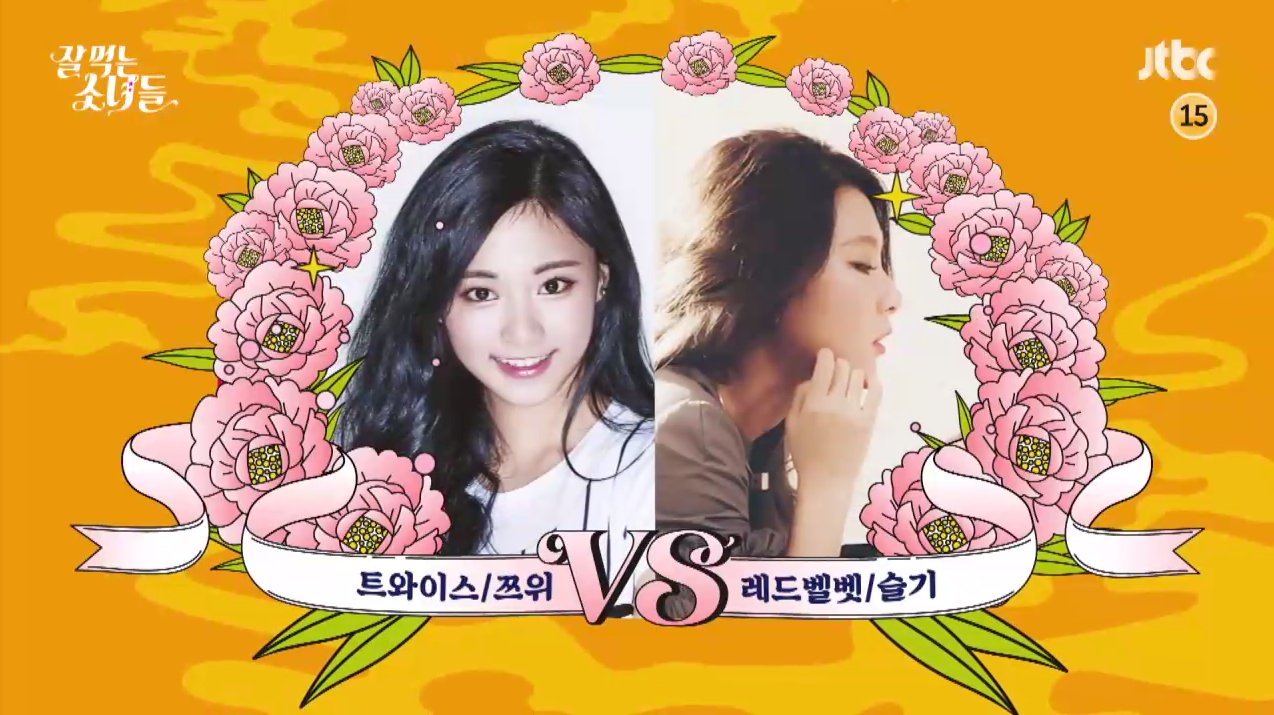 [Tzuyu vs Seulgi]
|| Voting ||
Sesi dibuka dari tanggal 10 Juni 2016 sampai 14 Juni 2016
~*~
***
STREAMING LIVE
[160615] First Broadcast – LIVE
|| V App Special – Main Camera||
|| V App Special – Focus Camera at Seulgi ||
Pastikan untuk streaming pada Live Broadcast pada tanggal 15 Juni 2016, dikarenakan mungkin ada voting secara Live melalui V App. Maka dari itu mohon dukungannya untuk mendukung Seulgi diacara variety show terbarunya kali ini! Pastikan dan catat link V App, jangan lupa meluangkan waktu untuk menonton secara LIVE! Gbu~
***
OFFICIAL
|| Website ||
|| Naver ||